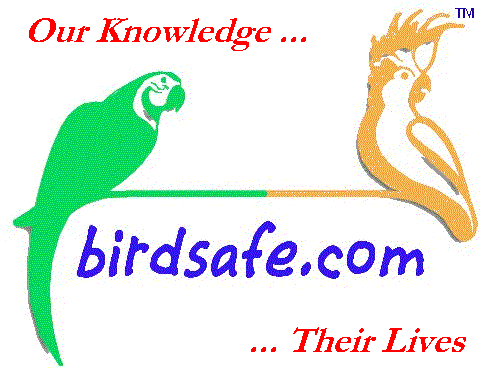 Links
Links:
The following are sites that we at Birdsafe.com, Inc. have found to be beneficial in spreading information about companion birds. We support and share information with other sites whose mission it is to spread the health and safety message, as well as promote general knowledge of aviculture. If you feel you have a site that belongs in this list, please write us. We do not support sites that sell, manufacture, or promote toys or toy parts or other items that we consider dangerous to birds, and the purpose of this link page is not to support commercial operations. We do not advocate the use of rope or zinc chain, or non-stainless steel quick links in the manufacture of toys.

Also check out the following sponsored by the Avian Network:
http://www.aviannetwork.com/cgi/oasis/oasis.cgi http://www.aviannetwork.com/cgi/ips/auction.cgi
---

---
Advertising:
Currently Birdsafe.com is averaging about 1500 hits per day at our site. If you feel your company would meet our criteria for safe products or services, and you wish to place a banner ad someplace on our site, please email us. Advertising decisions and rates are decided on a case-by-case basis.